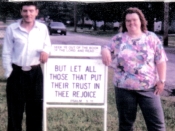 "And I say also unto thee, That thou art Peter, and upon this rock I will build my church; and the gates of hell shall not prevail against it." Matthew 16:18 KJV AV1611
HUMBLE BEGININGS!!!
HOLYness BIBLEs came from very humble beginnings. It all began on a damp spring Sunday morning in March of 1990. When God began to deal with a young man's heart. The man told the Lord, if HE really wanted this man to go to the mission work of the blind of the U.S. to show this man in an unmistakable way. Unknown to everyone but that man & the Lord Himself. Only a few days later on Wednesday of that week the man's prayer was answered. At this the man went down front fell down on his face & surrendered to the work God had called him to. The man's name was Ken Wolfgang. He was 19 years old at the time & had no idea how he was going to accomplish the task he was called for, but he wasn't going to let ignorance or prejudice of his bad eye sight stop him from doing what he knew as sure as he was saved he was called to do!!!
You can be there & here it for yourself! Listen to the alter call from the message when it all happened titled, "It Only Takes One". by clicking the button below.
However, those using "TEXT TO SPEECH" or "SCREEN" readers may find some audio conflicts.
This excerpt of the service that started it all will take approximately 9 minutes to play.
THE TESTING OF THE CALL!!!
Between The spring of 1990 & the end of 1996 Ken that is to say Brother Ken prayed, studied, preached, witnessed to the lost, etc., but prejudice in the churches kept him from gaining any official recognition. Some of this may have been do to the fact that Brother Ken came from a very poor background, but whatever the reason ken never let it damping his spirit or drive to do his Father's calling!
A CHANGE IN THE WIND!!!
In the beginning of the year of 1997 the Lord began to turn things around for Brother Ken. In January of that year Ken was finally recognized as a preacher of the gospel & was licensed by a Baptist Church. Then a 2nd, vitally, important piece of this puzzle God put into place when God gave to Missionary Ken in July of 1997 his wife Ruth.
A TOUGH TEAM FOR CHRIST!!!
As a married, legally blind, minister of the gospel. God asked Missionary Ken & his wife to pastor a small church who eventually ordained him to the ministry in 1998. During this time Ken & now Ruth kept diligently striving toward the goal of the mission work of the blind.
YOUR NAME SHALL BE!!!
From the time Missionary Ken Wolfgang was called to the blind of the U.S. in March of 1990 to the late 1990's the ministry to the blind had no name to speak of. Yes! At times ken had used names like "Bible Baptist For The Blind" or simply the "blind ministry". However, none of those names ever stuck. Then in late 1999 the Lord Jesus Christ showed Missionary Ken, since one of the MAIN points that this ministry revolves around is nothing more than the "HOLY BIBLE". Then the name should have "HOLY BIBLE" not only in the name, but in capital letters. The 2nd thought wasn't far behind. This was that the name should state we've a firm stand on right or holy living "holiness". Then the name should say who our mission work is directed to, that's to say the "blind". Although we reach out to all the lost. Well, the Lord Jesus Christ putting all these things together in Ken's head, but without Ken's realizing it at the time, showed him the name "HOLYness BIBLEs for the blind". Ken will tell you even today, that looking back on that day. "If it wasn't for Jesus giving us this name. We'd still be throwing around stupid names. GIVE ALL THE GLORY TO JESUS CHRIST ALONE!!!"
AN ADDED CALLING!!!
In the year of 2012, Missionary Ken was sitting in his livingroom when he once again felt that presence of God calling him to do something new. He felt God's direction not only to continue the Ministry to the blind, but he felt a added calling to the cold & dying church of this Laodicean church age. God called Missionary Ken to go to this Laodicean Church & preach just like Elijah did in his time. Doing so, Missionary Ken believes God has called him to be "God's Elijah To The Churches" of today!
If you want to find out more about this calling & ministry that Missionary Ken has been called to. Go here to check out the "God's Elijah To The Churches" section of this website!
A SPECIAL SONG FOR OUR MISSIONARY FRIENDS!!!
"A man that hath friends must shew himself friendly: and there is a friend that sticketh closer than a brother." Proverbs 18:24 KJV AV1611
So, to our outreach missionaries, Brother Timothy Gruver, Brother Ify, Brother John McTurnen, & Brother Dave & Willie Hauser. We send out this song being sung by "The Ashtabula Angels" as a special dedication for you "ALL"!!!
You can listen to The Ashtabula Angels as they sing this special dedication song about "Friends" by clicking the button below.
However, those using "TEXT TO SPEECH" or "SCREEN" readers may find some audio conflicts.
This song will take approximately 5 minutes to play.
YOU SAY YOU WANT MORE INFORMATION!!!
Then try some of these links!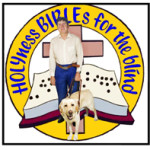 Here he comes complete with 4 paw drive!
Get to know Missionary Ken Wolfgang up close without having to get Leader Dog Kissed!

They say beauty is skin deep.
However, we believe a person's true beauty should come from the heart.
Well, we say if you get to know Ruth Wolfgang you'll see she has it both in & out as well!!!!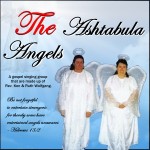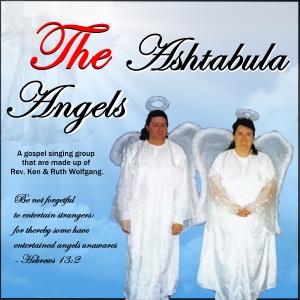 Meet the angels!!!
Support this ministry by getting your copy of the Ashtabula Angels, "Clearly Spoken" CD, or see what's coming soon!
See What's on it, and listen to a sampling of it's strong messages from heaven, or book these messengers of God's Amazing grace before they fly away!!!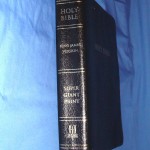 Many will ask, "Where do you stand doctrinally?"
Well, you can get the answers here!!!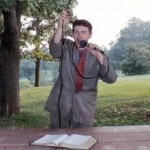 Learn the answers to some hard hitting questions on our HOLYness BIBLEs Q & A tell it like it is!!!