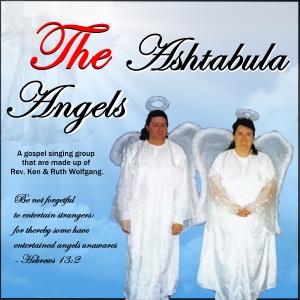 "Are they not all ministering spirits, sent forth to minister for them who shall be heirs of salvation?" Hebrews 1:14 KJV AV1611
You can listen to The Ashtabula Angels as they sing the HOLYness BIBLEs for the blind theme song "Just Because I Don't See You" by clicking the button below.
However, those using "TEXT TO SPEECH" or "SCREEN" readers may find some audio conflicts.
This song will take approximately 3 minutes to play.
WHO ARE "THE ASHTABULA ANGELS"???
"The Ashtabula Angels" are a gospel singing group that are made up of Missionary Ken & Ruth Wolfgang.
Learn the answers to some hard hitting questions on The Ashtabula Angels tell it like it is!!!


Don't kill 2 birds with 1 stone!!!
Instead support the "HOLYness BIBLEs for the blind" ministry, with a $5 LOVE gift, or more and get a great gospel CD album in the mix. Not to mention you will not have to break one of the ten commandments!
"Thou shalt not kill." Exodus 20:13 KJV AV1611
For your $5 or more LOVE gift we will ship you the CD version of The Ashtabula Angels "CLEARLY SPOKEN" album!!!
Clearly Spoken CD Album LOVE OFFERINGS
OR download YOUR FREE MP3 version THROUGH THIS WEBSITE!!!
This download will be a "ZIP" file which after you download you must "EXTRACT" in order to play the mp3 files that are in the folder.
Please check your computer's "help" section for information on "EXTRACTING" ZIP files.
WHAT'S HAPPENING WITH THE ANGELS?
Learn about up comming concerts, albums, and what "The Ashtabula Angels" are doing right NOW!!!
WHAT'S HAPPENING WITH THE ANGELS?
HOW DO I BOOK THE ASHTABULA ANGELS FOR MY CHURCH OR EVENT???
To make booking reservations with The Ashtabula Angels for your church or upcoming event!!!