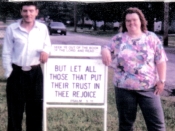 "Preach the word; be instant in season, out of season; reprove, rebuke, exhort with all longsuffering and doctrine."
2 Timothy 4:2 KJV AV1611
Let our audio sermons do the "Preaching" for you!
ALL sermons are free as the Lord provides!
While ALL MP3 sermons can be obtained through this website absolutely FREE!!!
Please keep in mind it does take $1.00 to produce the cassette or CD version, and $5.00 for small orders of no more than 10 sermons to ship in the U.S., larger orders will be more costly.


Please help us offset this cost with your generous LOVE gift!!!
A WORD OF THANKS FROM HOLYness BIBLEs for the blind!!!
"For for this cause pay ye tribute also: for they are God's ministers, attending continually upon this very thing.
Render therefore to all their dues: tribute to whom tribute is due; custom to whom custom ; fear to whom fear; honour to whom honour.
Owe no man any thing, but to love one another: for he that loveth another hath fulfilled the law."
Romans 13:6-8 KJV AV1611
With a sermons library of over 200 titles strong & GROWING.
We realize it surely isn't because we preached ALL of those titles ourselves!
That is why even though Missionary Ken Wolfgang contributed a great many titles to this library.
We at HOLYness BIBLEs for the blind would like to send out our deepest THANKS to the following:
Rev. David Cummings
Dr. Larry L. Emery
Evangelist Timothy Gruver
Pastor Bob Kauffman
Dr. D. J. Kennedy
Dr. B. R. Laikin
Rev. James Lewis
Brother Danny Miller
Rev. Bill Pickel
Dr. Peter S. Ruckman
Brother Mike Sheibley
Rev. Tom Smith
Brother Randy Waters
as well as other un-named preachers.
We would also like to take this time to THANK Sister Sheila Jamison as well as the many other un-named children of Jesus Christ, who gave from their personal collections as well!
To everyone.
THANK YOU!!!
You can also let our audio sermons do the preaching for you much farther a field than you can imagine!!!
If you already are recording your preaching services, and would like to know if we would be interested in them. Please read the following information.
If your ministry and message seems to fit what you see on this website. Then by all means proceed!
So, you may ask???
Q. What standards are there for donated Preaching cassette tapes, or CDs that you receive?
A. ALL sermons MUST be:
1. doctrinally sound. Please check out our
2. They must be of good quality.
3. They can't be from a ministry looking for reimbursement, or a FEE for the sermon from our ministry. It must be understood that ALL sermons that are donated are to be "GIFTS"!!!
It is also understood that any final decision of whether a sermon is excepted into our sermons ministry is at our discretion!
Q. Do you except preaching tapes, or CDs from any source?
A. Yes, and no. We know that sounds a little contradictory, but it's not. For example, we don't mind getting preaching tapes etc. from a big church or a unknown street preacher. However, we will refuse tapes etc. from a cult trying to shove their FALSE DOCTRINES into this ministry!!!
Q. Why do you have such requirements for the cassette tapes, or CDs you receive?
A. This is simple, because the Bible makes it clear that what we do to others we do to Jesus Christ Matthew 25:40 KJV AV1611. Not to mention how we would feel if we would get something of poor quality, or doctrine ourselves Matthew 7:12 KJV AV1611.
Q. What type of sermons is your ministry looking for?
A. The type of sermon that will "make the grade" and be excepted will be a sermon of good quality, non-partial, or it will be very descriptive in nature.
Q. When you say "non-partial" are you saying you are looking for "soft" preaching?
A. NO WAY!!! When we say "non-partial" we simply mean that a preacher is NOT saying for example "A poor person is poor ONLY because he or she is LAZY"!!!
Or another example is "The ONLY reason a person has an inconvenience is because he or she HAS SIN in their life, and that is the REASON they CAN'T or WILL NOT GET HEALED"!!!
However, a careful look through our
category in this sermons ministry area of our website will put that false theory to bed for good!!!
Q. Is there a time limit on how long a sermon can be?
A. NO WAY!!! Who said GOD had a limit on the size of the message or "letter" he may send???
Remember fellow "postmen" that is all we are for Jesus is NOTHING MORE than "Postmen" for Jesus!
On top of that He already "PAID IN FULL" the "Postage" for the message or "letter" to "GO" out, and just like the real "Postmen" one person may "LOVE" what you bring.
While less than 200 feet away another will wish to heaven that this "Postman" hadn't come today!!!
Q. Our ministry is a small one and all we record the sermon part of our services on is a hand held walkman type recorder, Will your ministry still except these type of recorded sermons?
A. YES!!! We have many sermons in the present library that were recorded in this way. Just remember it is "clarity" and not the method of recording that matters to our ministry.
This is what we mean by "good sound quality". When we say this we are simply talking about the "CLARITY" of the sound & not the "LOUDNESS" or level of the recording itself.
If we find a sermon of good "clear" sound quality with a good message that passes our ministry standards we will use our own HOLYness BIBLEs for the blind studio equipment to transfer it to CD etc as needed for our ministry needs.
Q. What should I include when I send a sermon to your ministry?
A. When you are ready to send us your first sermon. It would be helpful to us if you would send us a communication and inform us that you will be sending us sermons in the future.
When you are ready then you can
and be sure the following information is included.
1. Your full name including title (Rev., Pastor, Elder, etc.)
2. Full address including city, state, and zip code.
3. Telephone number including area code.
4. Email address.
5. Name of ministry or church.
6. Written permission to include your name in our "Word of thanks" on this website" or an opt out request from you.
Note: If you do NOT send written permission to include your name in our "Word of thanks" or if this information is missing we will automatically opt you out of our "Word of thanks" and will be classifying your name as "other un-named preachers".
So, if you would like to be acknowledged on this website on our "Word of thanks". We will need written permission from you.
The reason we like to acknowledge those who give to our ministry in our "Word of thanks" is because of the scripture sited by that acknowledgement.
Q. Do I have to wait for your ministry's reply Email before sending my first sermon package?
A. NO WAY!!! In fact you may inform us that the sermon parcel is in route to us.
However, if you have already shipped such a sermon package. Please informe us of any USPS, UPS, or Fed Ex tracking numbers that you may have for your package.
In this way we can track the package & know when to expect it's arrival date here at our ministry.
Q. What must a sermon have on it's label?
A. The ONLY thing that a sermon MUST have on the label is:
1. the title of the sermon.
2. The name of whom is preaching or speaking.
3. The ministry or church of which they are preaching or speaking at during this recording.
4. The Date & time on which the sermon was recorded.
In a few cases we found some good sermons without a label or missing some of this information and we had to do our best to come up with it from the recording itself.
Q. How many sermons can I send at a time, and for how long can I keep sending them?
A. The answer to this question is simple. you may send as many sermons as you like for as long as you like until Jesus returns. In short we can't get enough good preaching to satisfy our craving!!!
Q. Where do I ship the sermons package to?
A. If you use UPS, FedEx, or even the US Postal Service. You can send the package to:
HOLYness BIBLEs for the blind
C/O Ken & Ruth Wolfgang
PO. Box 471
Ashtabula,Ohio 44005-0471