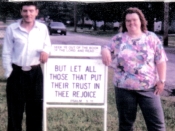 "And the King shall answer and say unto them, Verily I say unto you, Inasmuch as ye have done it unto one of the least of these my brethren, ye have done it unto me." Matthew 25:40 KJV AV1611
The Walk West
Sermon Category: Holiness
Total listening time: 1 Hour 18 Minutes
This sermon is a sermon that covers the following topics:
Acres, afraid, Africa, Alabama, albums, alligators, America The Beautiful, anger, Appalachian Mountains, Arizona, ashamed, Asia, baby, backpack, backgrounds, bad attitude, bank, Baptist seminary, bars, barefoot people, book, black family, blisters, blond hair, California, cautious, child, Christian, Christians, city, cliff, college, Colorado, conditioned, conflict, conformation, Connecticut, commitment, commune, counselors, country music, crying, dangerous, dangers, dating, desert, deserts, drugged, drunk, embarrassed, emotional time bomb, England, events, excitement, faith, farm, fear, First Baptist Church, Florida, foolish things, foreign country, France, freak, friends, front porch, Georgia, gifts, God's call, Good Morning America, government, hat, hermit, high school students, hiking boots, history, Holy Land, honeymoon, hope, horseback, human will, ideas, Indian, Indiana, Indians, interdenominational church, interview, Ireland, Isaac & Rebekah, job, jobs, kids, know, learn, Louisiana, love, man, marry, Mexican restaurant, minister, ministers, ministry, Minnesota, miracle, mirror, mission, Mississippi River, Missouri, moral values, Mormon Country, Moses, mountain men, Nashville, Nebraska, New Mexico, New York, news, newspaper, newspapers, North Carolina, Norwegian descent, nut, off shore oil rig, Ohio, opinion, Oregon, Pacific Ocean, pack in ounces, pain, palm trees, parents, Paul Harvey, personality, plan, polluted, poor, pray, praying, preacher, preconceptions, prejudice, preppy, pretty clothes, pretty hair, professor, professors, races, radio show, rancher, rattle snakes, Rocky Mountains, running around, Russia, saw mill, Scandinavian accent, Scotland, shacks, shirts, shot, snow bank, soul, spirit, spring water, state, strength, sun stroke, tacky, talk show, taught, teacher, television show, Tennessee, tent, testimony, Texans, Texas, The Today Show, The Great Depression, The Rest Of The Story, thinking, tornadoes, totally covered, training, truck stop, truckers, truth, truths, TV show, unemployment, United Kingdom, Utah, water gravy, way of life, Will You Go With This Man?, wind mills, woman, woods, and World Wars.
You can here it for yourself! Listen to "The Walk West". by clicking the button below.
However, those using "TEXT TO SPEECH" or "SCREEN" readers may find some audio conflicts.
"The Walk West" will take approximately 1 Hour 18 Minutes to play.
if you would like us to send you this sermon on CD that you have read about here! please
CONTACT US to request The Walk West
and make sure to give us the following information:
your full name
Full Address
Telephone Number including area code
Email address
as well as the fact that you are requesting the sermon title "The Walk West"
and the fact that you would like to receive it in CD.
WHY WAIT THOUGH???
You can download your "FREE" copy through this website!
This download will be a "MP3" file.


Please help us keep our sermons FREE for the asking with your generous LOVE gift!!!
Thank you!!!