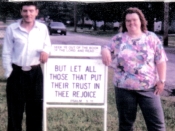 "And the King shall answer and say unto them, Verily I say unto you, Inasmuch as ye have done it unto one of the least of these my brethren, ye have done it unto me." Matthew 25:40 KJV AV1611
Repairing The Altar Of Humility
Sermon Category: Holiness
Total listening time: 42 Minutes
This sermon is a sermon that covers the following topics:
Acknowledge, admit, adopted, agree with God, agreeing with God, altar of honesty, baby Christian, backslidden, Baptist, bitterness, blessings, blood atonement, bury, ceremonial law, character of God, cheap grace, child, children, Christians, church members, church stuff, civil law, courtroom of heaven, cursing, dead men, desire to be righteous, die, discouraged, drinking, drugs, drunk, dynamic quality, electric chair, enraged, eternal security, falling short, family, friends, full forgiveness, furious, God's Riches At Christ's Expense, God's Son, God's wrath, government, grace tank, gun, guns, hell, holiness of God, humble, humility, hypocrites, ill will, innocent one, Jesus, judge, jury, justice, killed, legalism, legalists, life, loss, love, lying, mercy, moral law, morn, mourner's bench, murder, murdered, murders, New Testament, no grace, obey, Old Testament, our sin, parked cars, police, poor in Spirit, power to do right, prayed, prayers answered, praying, pride, prison, proud, radio, read the Bible, reading, revenge, righteous, righteousness of God, rock music, salvation, sanctification, saved, search party, second blessing, shoot, shooting, sinless one, sinless perfection, sinners, sinning, sins, soul winning, spiritual, Sunday School Teacher, teenager, teenagers, television shows, trial, try, trying, unmerited favor of God, vengeance, weak status, wet them, wickedness, will power, win them, witness, work them to death, works, and worship practices.
You can here it for yourself! Listen to "Repairing The Altar Of Humility". by clicking the button below.
However, those using "TEXT TO SPEECH" or "SCREEN" readers may find some audio conflicts.
"Repairing The Altar Of Humility" will take approximately 42 Minutes to play.
if you would like us to send you this sermon on CD that you have read about here! please
CONTACT US to request Repairing The Altar Of Humility
and make sure to give us the following information:
your full name
Full Address
Telephone Number including area code
Email address
as well as the fact that you are requesting the sermon title "Repairing The Altar Of Humility"
and the fact that you would like to receive it in CD.
WHY WAIT THOUGH???
You can download your "FREE" copy through this website!
This download will be a "MP3" file.
Download Repairing The Altar Of Humility


Please help us keep our sermons FREE for the asking with your generous LOVE gift!!!
Thank you!!!