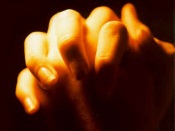 "Confess your faults one to another, and pray one for another, that ye may be healed. The effectual fervent prayer of a righteous man availeth much." James 5:16 KJV AV1611
DO YOU HAVE A PRAYER REQUEST???
Don't carry that burden alone!!!
Remember there's strength in numbers!
You may contact our "PRAYER TEAM" leader, by voice call or text message by dialing: 1-440-789-9411.
You may also fill out the form below. It's totally confidential!
Then our "PRAYER TEAM" here at HOLYness BIBLEs for the blind will pray for each of your requests.
Please let us know when God has answered your, and our request on your behalf.
Our "PRAYER TEAM" not only wants to rejoice with you in answered prayer, but we are the kind of prayer ministry that will not STOP PRAYING until we KNOW we have been answered. This is due to our strong belief in a PRAYER ANSWERING GOD!!!
NOTE: Be sure that all areas that have a ( * ) before them are completely filled in!
THANK YOU!!!!