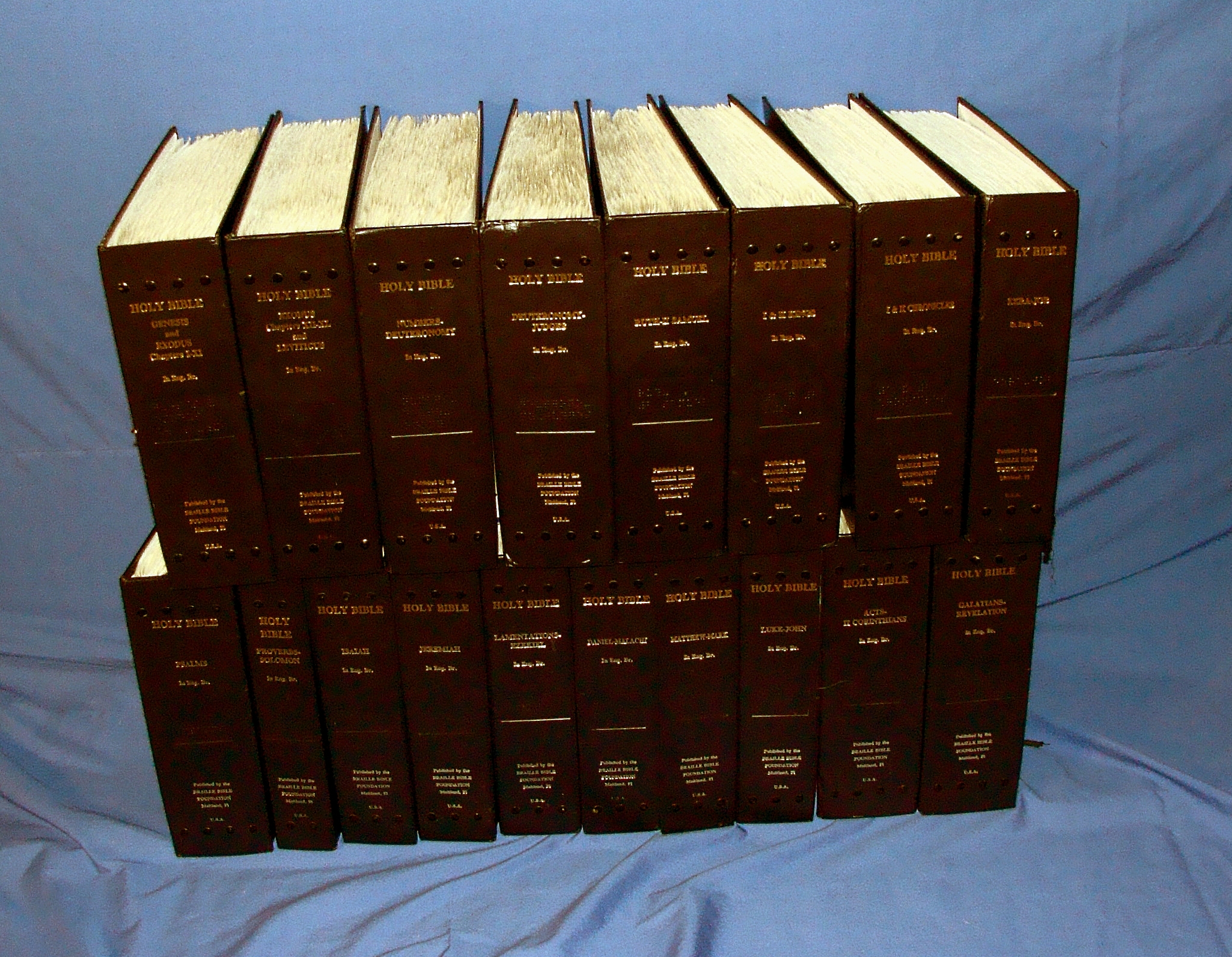 "O Timothy, keep that which is committed to thy trust, avoiding profane and vain babblings, and oppositions of science falsely so called:" 1 Timothy 6:20 KJV AV1611
Let our Braille Bibles give you a "feel" for God's word!
These Bibles are perfect for those who have low or no vision that also read braille!
Please keep in mind it does require that a form must be filled out by a qualified physician (this form we will provide). For the 18 volume, Braille Bible.
However, this Braille Bible is TOTALLY FREE OF CHARGE!!! This includes shipping in the U.S.
Please help us put a "touchable Bible" under the fingers of a blind person who really needs to be "touched" by the words of God.


CONSIDER A GENEROUS GIFT TO SUPPORT THIS GREAT WORK!!!
The Braille Bible is made up of 18 volumes. Each approximately 12 inches high, by 12 inches wide, and 3 inches thick.
Please NOTE the following:
If You have checked the button to indicate that you are sponsoring a Bible. However, we have NOT gotten any further contact from you as to a LOVE gift either by the use of the Braille Bibles LOVE offerings linke provided above. Or we have NOT got any receipt of a check or money order made payible to HOLYness BIBLEs for the blind through the Postal Service. Please indicate with your check or money order that this LOVE gift is for your sponsorship of a Braille Bible.
However, if we have NOT gotten such a conformation contact from you within two (2) weeks that is to say fourteen (14) days. We will concider this contat a spam contact and you as a total "FAKE"!!!
Also, be sure that all areas that have a ( * ) before them are completely filled in!
THANK YOU!!!