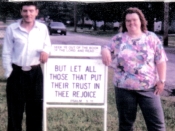 "And the King shall answer and say unto them, Verily I say unto you, Inasmuch as ye have done it unto one of the least of these my brethren, ye have done it unto me." Matthew 25:40 KJV AV1611
The Voice Of One Crying In The Wilderness
Sermon Category: Holiness
Total listening time: 1 Hour 2 Minutes
This sermon is a sermon that covers the following topics:
Absalom of rebellion, adultery, agony, Ahab of covetousness, alcoholics, altar, America, Amos, angels, art gallery, attire, Baal, babies, backslid, backslidden crowd, bankers, baptacostals, baptism of the Holy Ghost, Baptist church, baptized, Belshazzar of ill reverence, Bible, blacks, blind, bloody jail of slaughter, board examination, books, bottomless pit, brake men, breaking promises, broken men, budge men, Calvary, Caribbean, change, Church of Christ, closest friends, clothes, common, competition, consecration, crucify, crying, dead Baptist, demand, died, disease, diseases, doctrine, door, dope head, dress, drink poison, drinking, drug addicts, drunk, Earth, Ezekiel, Ezra, fail, Family conversation, Feel The Nails, flowers, food, gift, gifts, God fashioned, God filled, God Fired, Goliath of power, Governor, Haggai, handle snakes, happiness, heaven, hell, Hill Billy, Holy is the Lord, Holy rollers, home, hymn books, hypocrite, If Jesus Came To Your House, Isaiah, Jeremiah, Jezebel of murder, Joel, John the Baptist, Jonah, judgment, KKK, Ku Klux Klan, laboratory, lame, liberalism, lifeless dogma, Lutheran church, Macbethany of villainy, magazines, Malachi, Martin Luther, Mason lapel, Mason ring, Mayor, message, method, Methodist church, Micah, millionaires, mind, ministry, miracles, Nahum, nation, Nebuchabnezzar of pride, Nero of evil, nicest room, ownership, pain, partnership, people, pigsty, plans, playing games, poor, prayer, preach, preacher, preacher's study, preaching, premarital sex, priests, proclamation, promotion, prophet, propaganda, radio, read, religious crowd, repent, repentance, saved, shout, shouting, silence, sin, sing, sinners, slumber, smallpox, snob, snoot, songs, soul winning, Southern Baptist, spirit, standards, storefront, table grace, teaching, tears, television preachers, theology, transgressions, tree, unusual man, virgin birth, weeping, wet them, whore, wilderness, win them, witness, witnessing, work them, worldly music, and Zechariah.
You can here it for yourself! Listen to "The Voice Of One Crying In The Wilderness". by clicking the button below.
However, those using "TEXT TO SPEECH" or "SCREEN" readers may find some audio conflicts.
"The Voice Of One Crying In The Wilderness" will take approximately 1 Hour 2 Minutes to play.
if you would like us to send you this sermon on CD that you have read about here! please
CONTACT US to request The Voice Of One Crying In The Wilderness
and make sure to give us the following information:
your full name
Full Address
Telephone Number including area code
Email address
as well as the fact that you are requesting the sermon title "The Voice Of One Crying In The Wilderness"
and the fact that you would like to receive it in CD.
WHY WAIT THOUGH???
You can download your "FREE" copy through this website!
This download will be a "MP3" file.
Download The Voice Of One Crying In The Wilderness


Please help us keep our sermons FREE for the asking with your generous LOVE gift!!!
Thank you!!!